If your company is in an industry where the storage of large or heavy goods is necessary, you will probably have already heard of or used cantilever racking. Cantilever racking offers a storage solution for long and heavy goods in a range of industries; from timber merchants to builders yards and metal works.
Cantilever racking is constructed from strong steel to be able to hold the heavy loads that are placed on to it. The vertical steel frames provide the racking with support and a structure for the cantilever arms to be attached to. The uprights are drilled with holes which the arms are then attached to.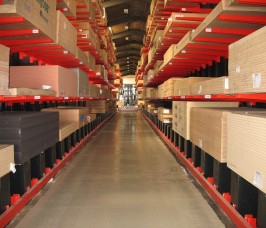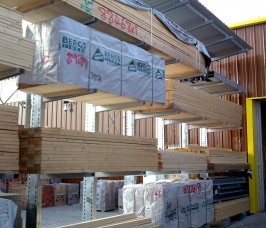 The holes in the uprights can be either single or double sided, allowing for products to be placed on one or both sides of the frame. Having double sided cantilever racking will save space in your storage facility. Another way to save space is to use side-load forklifts to pick and place the desired products on the racking shelves. Using this specialist equipment will allow for narrower aisles as it does not need to turn in order to line up to forks with the products, they are already aligned.
Using cantilever racking gives you flexibility in what products you can store. The arms themselves are available in different strength levels, appropriate for different loads. If you are a company which holds a diverse range of stock e.g. a builders merchant, you may wish to store different lengths of product on the same cantilever rack. An example of this is storing timber; the type may be the same but the size different. It is logistically more appropriate to keep the same type of timber together, but the differing loads means that the type of cantilever arms that they are sitting on will need to change accordingly. The flexibility of this type of racking system means that the stronger arms for heavier loads can be at the bottom, whilst the lighter loads are directly above them.
Ultimately, the racking system that you choose should be bespoke to your companies requirements. Stakapal are a leading cantilever racking supplier and manufacturer who can design, make and install a racking solution to suit your company needs and budget; call them today on 01543278123 for an initial consultation.